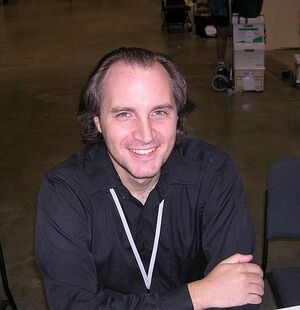 Dan Wells
is an American horror and science fiction author. A Utah native, he currently resides in Stuttgart, Germany.
Early life
Edit
Wells wrote his first movies, based on the Choose Your Own Adventure series, when he was in second grade. He followed up with several novellas, a serial and a series of comic books when he was in high school. He finished his first serious novel when he was 22. He is a graduate of Brigham Young University, with a bachelor degree in English, emphasizing writing and editing. He is the brother of author Robison Wells.
Wells is best known as the author of I Am Not a Serial Killer, a horror novel published in the United States by Tor Books. It has been released in the United Kingdom, Australia, Germany, and Taiwan. He also is one of the four authors (including Mary Robinette Kowal, Brandon Sanderson, and Howard Tayler) that contribute to the podcast Writing Excuses.
John Cleaver series 
Edit
This is a series of books by Dan Wells; it consists of two trilogies linked by a novella. Of these seven books, five of the six novels and the novella have been published so far.
The first trilogy

I Am Not A Serial Killer published in 2009
Mr. Monster published 2010
I Don't Want To Kill You published January 2011 in the UK and March 2011 in the US

The second trilogy, introduced by the novella Next of Kin.

The Devil's Only Friend published June 15th, 2015
Over Your Dead Body published May 3rd, 2016
Nothing Left to Lose (working title) Expected to be published in May 2017
Partials Sequence
Edit
The Mirador Series
Edit
Blue Screen, Balzer + Bray (February 16, 2016)
Stand-alone novels & novellas
Edit
A Night of Blacker Darkness (Novel July 26th 2011, audio book, 2011), written as Frederick Whithers (author) and Cecil G. Bagsworth III (editor)
A Pear-Shaped Funeral: Being the Second memoir of Frederick Whithers, as edited by Cecil G. Bagsworth III
The Hollow City (July 3, 2012)
The Warcaster Chronicles, Volume 2: The Butcher of Khardov (novella)
Short stories
Edit
The Amazing Adventures of George (2000), in Leading Edge #40
Charybdis (2011), in Leading Edge #61
The Mountain of the Lord (2011), in Monsters and Mormons (Peculiar Pages)
Editorials
Edit
How to Write Good (2000), in Leading Edge #40
Ad blocker interference detected!
Wikia is a free-to-use site that makes money from advertising. We have a modified experience for viewers using ad blockers

Wikia is not accessible if you've made further modifications. Remove the custom ad blocker rule(s) and the page will load as expected.